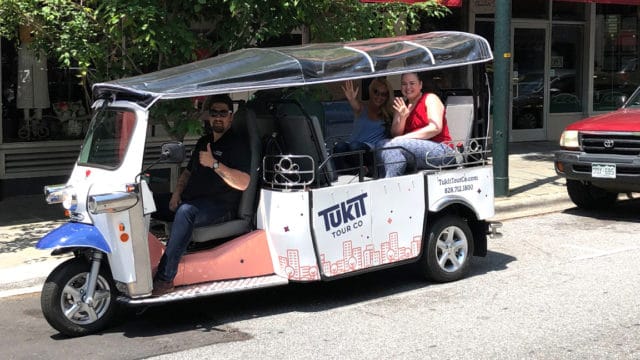 THE DETAILS
About: Rent us by the hour. With our Fleet of tuks, you and your friends can all Tuk around Asheville to the destinations of your choice. We are here to help make your experience a unique personal one. You can make the choices or we can help tailor the experience per your desire. Let us be your personal Limo service around town. Our crew of friendly drivers and tour guides are here to make your ride a memorable one.
Rates: (*Per hour)
2 people (minimum) = $90(hr) (2 hr minimum) – $90 (each additional hour)
3 or more people = $120(hr) (2 hr minimum) – $90 (each additional hour)
Duration: *Minimum of 2 Hours (Additional hours by 1/2 hour increments can be added)
Check-in Information: Our driver will call you prior to your tour to confirm pickup at your hotel or parking garage, which will be your start and stop point. (Certain area restrictions apply). Or, PARK FOR FREE at our office at 515 Short McDowell St., Building #6.
Available Times + Booking:
STOPS