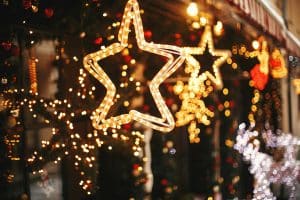 TIMES
5:45 PM begins at Tukit Tour Co Office or your *Hotel/B&B
7:30 PM begins at Tukit Tour Co Office or your *Hotel/B&B
A "Taste" of the Holidays
December 1 – December 29
THE DETAILS
Enjoy a fun and sensory "taste" of the holidays!
…the feel of winter while being warm and cozy by heated seats
…the sight of Holiday lights in the streets/neighborhoods of Asheville
…the sound of Holiday Music lofting through the air on our bluetooth speakers
…the taste of sipping chocolate, hot chocolate, mocha or other hot beverage
Get in the Holiday Spirit as we travel through the streets of Asheville in an all electric Tuk Tuk. Feel the cool winter breeze (unless you opt to have the clear plastic windows closed), while being warmed by our heated seats.
Holiday music will loft through the air on our bluetooth speakers. (You can sinc your groups favorite Holiday music or driver will choose.) Who knows, maybe even impromptu Christmas Songs may be sung by one and all!
Tour includes a stop for a drink (sipping chocolate, hot chocolate, mocha or other hot beverage), for each paying guest.
Each Tuk seats up to 6 people max, equipped with seat belts for each person. Tours begin and end at Tukit Tour Co Office, 515 Short McDowell St, Building #6, or at your Asheville Hotel or B & B. (Certain area restrictions apply)
Our Tuks have 2 bench seats facing each other that seat up to 3 people each seat. (6 people max). All tours are private and will consist of only your group, (from 1 to 6 people).
Dress warm (in layers) and you are welcome to bring a blanket.
Happy Holidays one and all!
*Certain Area Restrictions Apply
RATES
$63 (Age 17+)
$35 (Age 5 – 16) (Age 4 and under free)
DURATION
75 – 90 minutes
AVAILABLE TIMES & BOOKINGS
CHECK-IN INFORMATION
We will leave promptly on scheduled time from chosen pick-up location .
Pre-booking online or by phone call is required.
THERE ARE NO REFUNDS FOR NO SHOWS OR DISCOUNTS IF LATE ARRIVALS CAUSE TOUR TO BE SHORTENED.